If you click through any
link
in this email and are a new customer you should receive a coupon for $10 off your first order (and after your order is finalized I'll get $10 off of a future order so thank you in advance if you try them through my link!).
I've probably saved thousands of dollars over the years by shopping at
Sierra Trading Post
. They have a wide variety of discounted outdoor, casual and even dressy, business and home goods. I've bought discounted Merrell, Jambu, Adidas, Asics, Spooney, Teva, Mephisto, Keen and other name brand goods from them at
deep savings
. My husband (who prefers to shop in brick and mortar stores) has even bought sandals, shoes and shirts from Sierra Trading Post.
When I first started ordering from them it was mostly outdoor and casual items but they've expanded a lot since then. They even have luxury towels like those from Christy of England now. On the rare occasions I've needed their customer service they were extremely nice and resolved things promptly.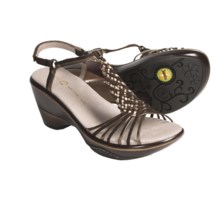 I just placed an order for a pair of Jambu sandals. I'd seen them in a local shop "on sale" for $96.00 (they retail for $99.00). I'd bid on some on ebay but they always went for more than my preferred price point. Today I had an email coupon for 35% off and free shipping so I got a pair of those sandals for $41.57. That's less than half off the retail price. I also bought two pair of polarized sunglasses (Bolle and Optic Nerve), three pair of shorts (Spooney Wear, Filson and Mountain Khakis) and a pair of sports sandals (Teva). I saved up to 85% (after taking my coupon into consideration) and I should be good for the rest of the summer (unless I can find some cute and cool summer dresses that I like more than the ones I already own).
Here's the link for the coupon mentioned above:
http://www.sierratradingpost.com/invite~2148033/phyllis~wheeler/
What is your favorite place to get bargains on new, brand name merchandise?